FOSS as a Business
Summary
In this talk we will introduce Sartura, a successful, Open Source-oriented company providing development, integration and consulting services to internationally renowned companies. Focus of the talk will be placed on day-to-day usage of Open Source technologies inside the company and the technologies themselves (e.g. OpenWrt), as well as the reasons behind the business proliferation of Free and Open Source Software (FOSS). Coming from different backgrounds and experiences, our speakers will also describe the good and the bad sides of working in Open Source industries.
Speaker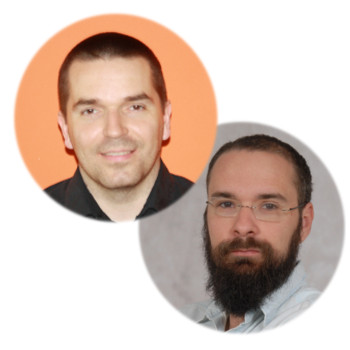 Davor Popović, Hrvoje Varga
Davor Popović Employed at Sartura from summer of 2015. as a software developer, I was one of the first employees in a company which today counts fifteen permanent employees. Aside from engineering tasks, I am also simultaneously involved in business development as well as in education and mentorship roles. My assignments vary from project to project and range from programmer, integration and testing tasks to workload organization inside the company. Additionally, the dynamic nature of the job also involves establishing and keeping up professional communication with renowned international clients. Regarding the educational segment of my job, I have held lectures in other companies on the topic of OpenWrt Linux distribution. Among notable embedded events I participated in I would single out my lecture at last year's OpenWrt Summit in Berlin (http://bit.ly/2lOnU4, http://bit.ly/2mb1mLR). As a big Open Source and Linux enthusiast, I enjoy working on everything Linux-related - from administering and developing userspace applications on Linux systems to developing Linux support for embedded devices, primarily routers. Lastly, I am also interested in technical educations and aim to participate in them whenever possible. Hrvoje Varga Currently employed at Sartura on developing tools and systems based on GNU/Linux distribution. My day-to-day assignments mainly include developing programmatic solutions but I am also involved in their integration and testing. The tasks vary from simple bug fixing on existing, public projects to implementing complete systems from scratch using various libraries. Of course, I am also responsible for direct communication with the clients in order to provide high-quality and efficient task completion. I am oriented and focused on software development and am always open to the possibility of using new Open Source systems and tools. Additionally, as an advocator of Open Source philosophy I was one of the co-founders of Open Source Osijek, a community that aims to promote and educate in topics of Open Source systems and tools. In my everyday work I enjoy using Open Source tools and utilize them anywhere possible.
Organization
Conference partners
Gold sponsors
Sponsors
Media
Friends